Adam Walsh Murder Solved - December 16, 2008 HOLLYWOOD, Florida
On December 16, 2008, the HPD announced - with John, Reve, and Adam's siblings present - that their investigations of the murder would be closed, based in part on the Matthews' Report. In actuality, the case was closed based fully on Matthews' self-serving report. At that press conference announcing the closure of the case, the HPD explained that they had closed their investigations because Matthews had provided conclusive evidence that Toole was the murderer and no further investigation was needed. The State Attorney's Office agreed.
Using John Walsh's name, Joe Matthews had such influence over the incorrigible Chief Wagner as well as the ineffective Mr. Morton at the Broward County State Attorney's Office that he could've convinced them to indict a ham sandwich.
EXPOSING THE CHIEF
Watch the Chief tell a lie on national TV. He says Matthews report claiming that it was Ottis Toole that murdered Adam is consistent with the opinions of investigators past and present. None of the original detectives think that Ottis Toole was responsible for Adam's abduction and murder. Matthews is the exception. I personally talked to the second lead detective, Ron Hickman. He is adamant about Toole's noninvolvement and lead detective Jack Hoffman said he would stake his professional career on Ottis Toole not being involved.
-Willis Morgan-
---
Hollywood Police Deliberately Closed the Adam Walsh Case Incorrectly
This is the video where the Hollywood Police Department officially closed the Adam Walsh case:

Excerpt from: A&E TV | Published on Nov 8, 2013
The Case of Adam Walsh

Lieutenant Smith was put in charge of the Adam Walsh case files in 1994 after the original lead detective Hoffman was removed from the case at a time when the Hollywood Police Department was being sued for the case files. Smith was sold to the media as a new "Hot Shot cold case specialist." The reality is Smith was more of a "cover-up specialist." In this short video you will hear smith deny that there were any witnesses.
Keep in mind, Jeffrey Dahmer was captured in 1991 and the Hollywood Police Department was in full cover-up mode starting when Jeffrey Dahmer was captured in 1991.
John Walsh holds a press conference that was based on misinformation given to him:

Reve Walsh gives a heartbreaking speech that was based on misinformation given to her:

---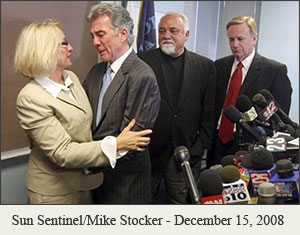 John Walsh, from the TV show America's Most Wanted, along with his wife, Reve, embrace after a press conference with the Hollywood Police to announce they have identified the killer of eight year-old Adam Walsh nearly three decades ago. Behind them are Joe Matthews, the original polygrapher in the case and former prosecutor in the case Kelly Hancock. Hollywood Police Chief Chadwick Wagner announced that convicted serial killer Ottis Toole abducted and killed the 6-year-old boy 27 years ago.