A misrepresentation of evidence by Les Standiford and
Detective Joe Matthews
Obsession with closure led Mathews to pin a murder on Ottis Toole
Inconsistencies in Matthews Interview
At 02:21:The ten-year-old boy Matthews is referring to is Tim Pottenburgh. Tim is not the only blue van witness at the Hollywood Mall. There is also Mia Taylor, Janice Santamassino, Phillip Lohr and Bill Bowen as well as many more blue van witnesses from other locations such as the four witnesses at the site where Adam's severed head was found.
---
At 03:36: Matthews says the FBI didn't get involved in the Adam Walsh Case yet in Bringing Adam Home he credits himself to be responsible for solving the case because the FBI was unable to solve it.
---
At 06:14:Jack Hoffman and Detectives' Verdicts
On January 10, 1984, Captain R.S. Davis, then head of the Hollywood detective division, wrote about the task force findings:"In the three months since Toole had surfaced as a suspect, the six investigators assigned full-time to the case had traveled to Jacksonville, Georgia, Texas, Virginia, and North and South Carolina—at a cost of 3,500 man-hours and $62,000. All persons known to have had contact with Toole during the summer of 1981 have been located and interviewed. Detectives have been unable to uncover any evidence, other than his confessions, linking him with the Walsh homicide."
This means Matthews was more of the problem than the solution. The other detectives had long since dismissed Ottis Toole as a viable suspect, nearly without exception. Matthews, the exception, continued to latch on to Toole. It's like the woman who was watching her son graduate from basic training. The woman standing next to her commented that one of the soldiers was out of step. The mother said, "That's my son; he's the only one in step." And like that mom, some people thought Detective Sergeant Joe Matthews was in step.
---
At 09:00: Detective Matthews uses Security Guard Kathryn Shaffer as his convenient scapegoat, and to this day, Joe Matthews has the Walsh family convinced that Shaffer put Adam out of the Sears and into the parking lot (Bringing Adam Home,p. 239).

When security guard Shaffer observed the incident in the toy department at 12:45 p.m., Adam had already been missing for around twenty-five minutes. Dahmer was already in his blue van with Adam, and the evidence I found implied that he was most likely on his way back to the meter room behind Sunshine Subs where he worked.
---
At 11:00: Matthews claims Ottis Toole led detectives to the location Adam's severed head was found.
NOTES ON INTERVIEW
OFFICER JACK HOFFMAN
5/28/96
Officer Hoffman explained that the suspect OTTIS TOOLE did not direct the investigators to either location. Regarding the decapitation location, Officer Hoffman explained that they had made two or three stops as they traveled north on the Florida Turnpike, and stopped at random locations that remotely could have been the "crime scene" location. Each time, TOOLE did not identify a location. When they stopped at the location on the north side of the RADEBAUGH RD overpass on the turnpike at mile marker 170, TOOLE had not told them to stop there. In fact, they had driven past it and saw the turnoff as they drove by. They stopped and backed up, and after looking about, TOOLE advised that it "could be" the location. Officer Hoffman advises that it was not until this site had been "identified" that any verbal harassing of TOOLE began (SAO case files, box 2, file 3, p. 276).
---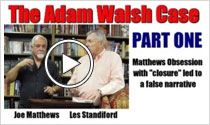 Part 1: Les Standiford and Joe Matthews talk about their false narrative.
---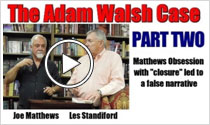 Part 2: Les Standiford and Joe Matthews; convict Ottis Toole with junk evidence and without calling any of the witnesses from the Hollywood Mall, The Twin City Mall and other locations relevant to Adam's abduction.
---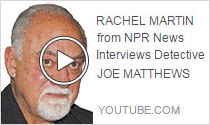 Listen to Detective Joe Matthews take credit for solving the Adam Walsh case. - At 2:11 of this interview Matthews says he reinterviewed every witness that was still alive, yet he has NOT called any of the witnesses from the Hollywood Mall and other locations relevant to Adam's abduction.
---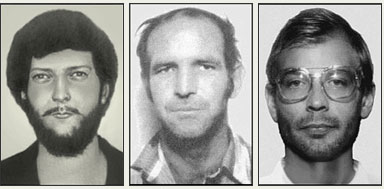 THREE SUSPECTS: Only one is guilty
LEFT: Jimmy Campbell
CENTER: Ottis Toole
RIGHT: Jeffrey Dahmer
Note: The HPD went after both Campbell and Toole with a vengeance, and Dahmer NEVER was even considered a suspect as the homicide detectives went into cover-up mode to protect their own reputations.
---